Studying in London gives you one of the widest course choices in the world, including top globally ranked programmes and institutions. But there are many other reasons why London should be at the top of your list.
Read on to discover the top five things that make London the place to study!
1. More than 50 higher-education institutions

London has one of the highest concentrations of higher-education institutions in the world. Spread across the city, London universities, while globally recognised, are anchored in their local neighbourhoods and will give you loads of opportunities to discover your new adoptive city. With so many institutions to choose from, you're bound to find the one that will give you the best foundations to start your career, whether that's here or at home. For help picking the best place to study, don't miss this handy guide to your London university.
2. Universities with global reputation
London boasts four universities within the world's top 40 rankings (Imperial College London, UCL, King's College London and The London School of Economics and Political Science), all of which are also globally ranked for graduate employability. But the city is also home to many other smaller institutions, both specialist and general, whose graduates are highly sought after, such as Goldsmiths, the University of Westminster or the Royal College of Music.
3. Some of the best courses in the world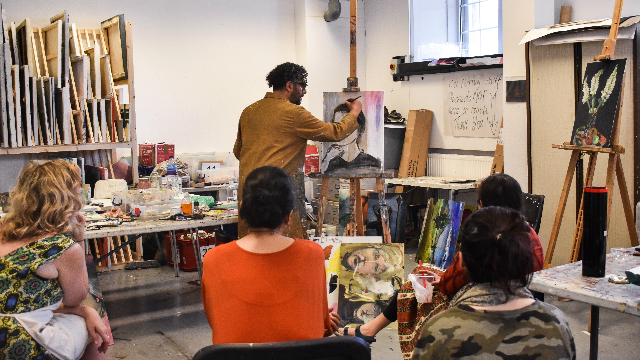 Thanks to a mix of specialised and more general programmes and more than 10,000 course options to choose from, there is no doubt you will find your perfect degree in London. Many of the city's institutions are world-leading subject specialists, such as the Royal College of Art, UCL and LSE, ranking number one for, respectively, art and design, architecture and social policy. A total of 30 London universities lead the way in global subject specialisms.
4. A diverse, welcoming and vibrant city
Almost 30% of London's student population is international, with 110,000 overseas students coming from more than 200 countries. After graduation, the capital is the perfect place for young professionals looking for their first job. With more than one third of London's overall population coming from overseas, and more than 233 languages spoken, the city is a huge multicultural mix, embracing people coming to work from across the globe and valuing their unique perspectives. If you're headed home after graduating, employers will no doubt value the international outlook you've gained after studying in London.
5. A thriving economy, with the career opportunities to match

With 6.14 million jobs in London, the capital isn't short of career opportunities. London is the leading European hub for finance and tech, two of the most dynamic sectors in the world, while companies in the creative industries employ 688,000 people in the city. London also leads the way in cutting-edge industries with 119,000 employees in life sciences companies in London and the Greater South East in 2018, a 15% increase compared to 2014.

The new Graduate Immigration Route, due to launch in summer 2021, will also enable international students who meet the criteria to apply for a two or three-year post-study work visa after they graduate. Find more information on the Study London's visa page or visit the UK Council for International Student Affairs (UKCISA) and the UK Visa and Immigration websites.
With friendly and welcoming locals, supportive government policies and a global network of businesses and entrepreneurs, there is no better place than London to kickstart your career.