University of East London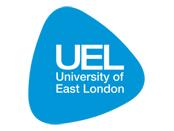 Why University of East London?
UEL is based in two sites in east London: one in Stratford near the London 2012 Olympic Park, and one in the Docklands, home to the O2 arena. With a stunning waterfront setting, the Docklands campus is
International Students
With more than 4,000 students from outside the UK, UEL is a popular institution for international students. The International Office offers a free programme to welcome new international students to London. This includes an airport pick-up service, as well as a variety of social events giving you the opportunity to meet other international students. The university is renowned for providing international students with excellent support services. UEL was ranked number one in the UK for its visa advice and language support (International Student Barometer). UEL is among London's leading universities for employability. Over 80% of UEL students go on to work or further study six months after finishing their studies. The university has a vibrant international alumni network which helps students to stay in touch with each other after finishing their studies. Current international alumni groups organise social activities and provide good career networking opportunities. UEL offers a variety of scholarships to international students.

Quick Facts
20,406 students and 553 academic staff
More than 5,500 possible subject combinations
Opened in 2000, the Docklands campus was London's first new university campus to be built in over half a century and won acclaim for its iconic architecture and was short-listed for Building of the Year